Educator First Aid Courses in Yeppoon & Rockhampton
HLTAID004 Provide an Emergency first aid response in an education and care setting.
First Aid Easy's Educator First Aid courses apply to educators and support staff working within an education and care setting who are required to respond to a first aid emergency, including asthmatic and anaphylactic emergencies.
This course will contribute towards approved first aid, asthma and anaphylaxis training under the Education and Care Services National Law, and the Education and Care Services National Regulation (2011).
Available Resources
The following resources will be available during this course:
AED training device
Different types of training adrenalin autoinjector training deceives (e.g. EpiPen®)
Placebo bronchodilators and a spacer devices
Workplace first aid kit and injury, trauma/illness records
Award issued
HLTAID004 Provide an emergency first aid response in an education and care setting
HLTAID003 Provide first aid
HLTAID002 Provide basic emergency life support
HLTAID001 Provide cardiopulmonary resuscitation
This statement of attainment will be issued by Allens Training Pty Ltd RTO 90909.
Industry Standards recommend this course be renewed every 36 months. Locate the most current training package at training.gov.au
Course Times for Educator First Aid Courses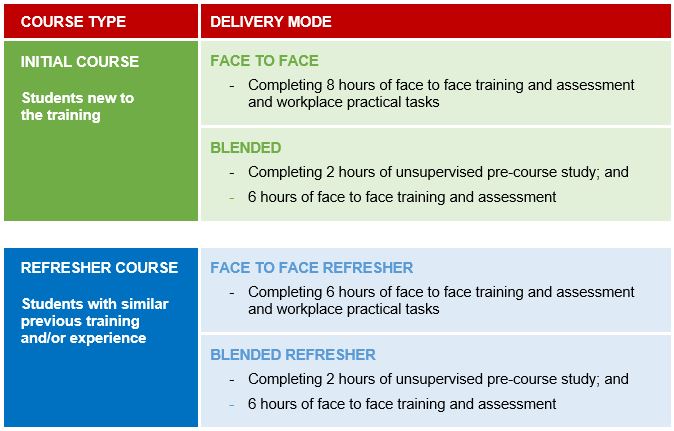 Assessment Activities/Requirements
Assessments conducted during face to face training session(s) include both practical tasks/scenarios and written theory assessments.
Physical Requirements
It is important to note when undertaking this course that there are physical standards related to the required level of first aid performance.
Participants must have the physical capacity to perform 2 minutes of uninterrupted CPR on the floor.
Course Location
Courses are delivered at our Training Facility or in the Workplace.
Payment Terms
Payment for individual participants is on the day, group booking payment terms are based on agreement between the client and service provider.
Student Handbook
For more information about learners' rights, responsibilities & support as well as complaints and refunds please review our student handbook.
For more information on this Educator First Aid Course or any of our other courses please contact us.